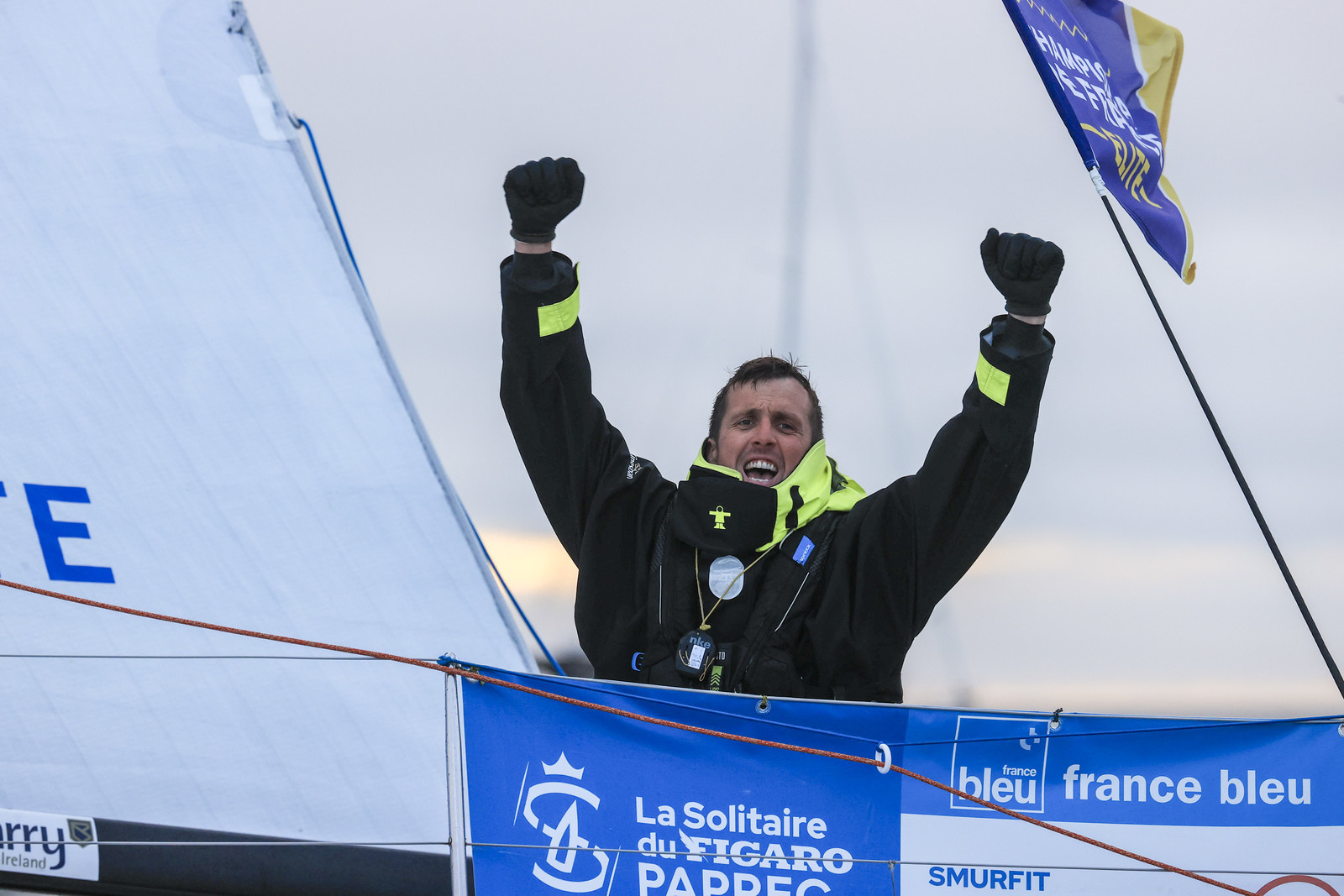 31 Aug

Irish sailor Tom Dolan clinches career best stage finish as La Solitaire du Figaro Paprec

Posted at 15:50h

in Uncategorized

Just on cue, Irish solo sailor Tom Dolan delivered his career best stage finish today when, under the added pressure of being the 'homecoming favourite' he took second place on the 610 nautical miles La Solitaire du Figaro Paprec first leg from Caen into drizzly Kinsale this morning.

The result on the first step of the three-stage 1850 miles race to Piriac sur Mer on the French Atlantic coast, sets up Dolan for the rest of the event with a useful cushion – around 14 minutes – over what can be considered his normal rivals.

With French rookie skippers Benoît Tuduri (CAPSO – En Cavale) and Julie Simon (DOUZE) unexpectedly taking first and third positions on their first La Solitaire, this is by far the best start by Dolan, skipper of Smurfit Kappa-Kingspan, on the annual pinnacle of French solo offshore racing which he is contesting for the sixth time.

A key strategic move when the 32 strong fleet passed through the Scilly isles early yesterday gave Dolan the stage lead on the climb up to the Fastnet Rock which he rounded in the small hours of this morning in fourth place.

Whilst Tuduri and Simon, first and third to round, were seeing the iconic ocean racing milestone for their first ever time, the sailor who grew up in County Meath Dolan thinks he has been out to the rock around 30 times, mostly when he worked as a sailing instructor out of Baltimore.

When he crossed the finish line it was relief which was Dolan's primary emotion. In truth he has no more local knowledge than is accumulated and disseminated through the fleet's by coaching and support staff.

Being solo and with no outside assistance or communication, once on the ocean the skippers only get the most basic weather information and their position in the fleet from race direction. Each sailor leaves the dock with a detailed road book of different weather scenarios, their homework done.

But the Irish skipper admits the extra mental pressure of his own and other peoples' expectations of coming to Ireland weighed very heavily on him as well as last month having had a disappointing Solo Concarneau Guy Cotten – the de facto dress rehearsal before the 'big one'.

"It was great coming in this morning, there were loads of people out to welcome me which was really touching." Grinned the exhausted Dolan, clearly 'running on fumes.' "I always feel more pressure on this leg 'home' to Ireland, it messes with your head because I want to do well. So there is a lot of relief. A lot. Earlier in the year when I found the race was coming to Kinsale I was immediately getting a bit nervous because there it is. coming to my 'home'. I was worried and the last time we raced in here I did terrible."

Of his decision to stay east he said, "I had this huge wind shift to the left and tacked and was pointing at the Fastnet. I stacked the stuff, tidied the boat a bit and said to myself 'right, who will be the first to tack but no one did. And of course it was night so I could not see anyone. I had a second thought to go back but it made no sense. And the tide was perfect for me."

He summarise, "It was a really typical Figaro leg. We started a very shifty wind with the whole pack compacted up together and looking at each other, seizing each other up, and then doing maybe 50 tacks and sailed 100 miles to get to the first mark because the wind was shifting around so much. It was non stop all the time. And then at the Scillies the fleet exploded and opened up a bit. You are thinking you are great thinking you are awful, thinking you are doing great, thinking you are awful thinking you are great. You start imagining a great finish and reel yourself in..It was a really classic Figaro leg. And at one stage some of the favourites are 20 miles behind and they still catch up. I thought the lead over them would have been a bit more, but I'll take it."

Looking back at the intensity of the course he said, "I am tired. These two or three occluded fronts, so dying depressions, meant the wind was all over the place, never steady. It seems like it was never settled for more than fifteen minutes, so you really got small, snatched naps."

Now he has two days and two nights to recover before Stage 2 to Roscoff via the Isle of Man and the Welsh coast which starts on Sunday at 1302hrs.