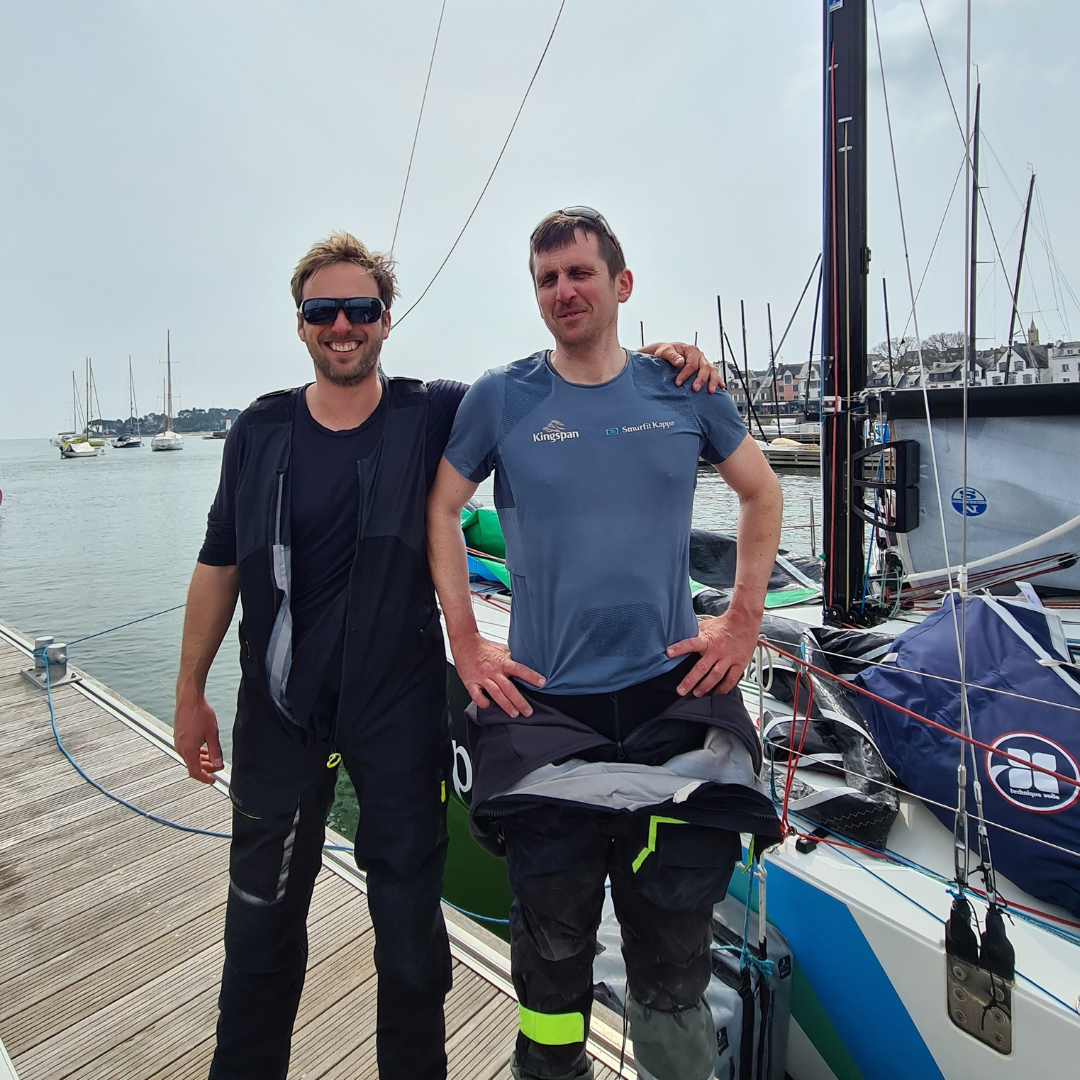 05 Apr

Ninth for Tom Dolan and Achille Nebout

Posted at 19:13h

in Uncategorized

Irish sailor Tom Dolan and his French co-skipper Achille Nebout should have been content with finishing in ninth place when the crossed the line off La Trinite sur Mer, Brittany yesterday, concluding the 315 nautical miles Laura Vergne Trophy, but the duo were mildly disappointed to lose two places in the final miles because of a tactical choice.
Racing Dolan's Smurfit Kappa-Kingspan the Irish-French pair led the 22 boat fleet not long after starting on Monday afternoon and through the whole passage were among the top four boats. But chosing to go to windward of the island of Houat cost them places.

"It is disappointing, it really is after having worked so hard and been up there. But it is a good lesson in risk management at the right time. This is not a championship race so I learn from it and am just glad it's not La Solitaire du Figaro, the big event." Dolan said on the dock in La Trinite

.
The duo finished less than 15 minutes behind race winners, Guillaume Pirouelle and Sophie Faguet.
"We kept hard at it and it was great to be up with the frontrunners throughout the race. With Achille, we did however make a stupid mistake right at the end, when we chose to go windward of the island of Houat. The wind was expected to strengthen from the West and move to our right. That is indeed what happened, but unfortunately too late for our option to pay off,"  said the disappointed Irish racer.

He was nonetheless pleased with their speed and tactical choices.
"On the very long 120-mile reaching tack between the tip of Brittany and Rochebonne, we started and finished with the same gap to the leaders, Région Normandie and Mutuelle Bleue, the references on the circuit, so that is encouraging," added the skipper who will be making the most of a well-deserved rest tomorrow before competing again out on the water on Friday in the 45th Spi Ouest-France – Banque Populaire Grand Ouest.
He will be racing in the crewed division with Brit Alan Roberts and France's Gildas Mahé.