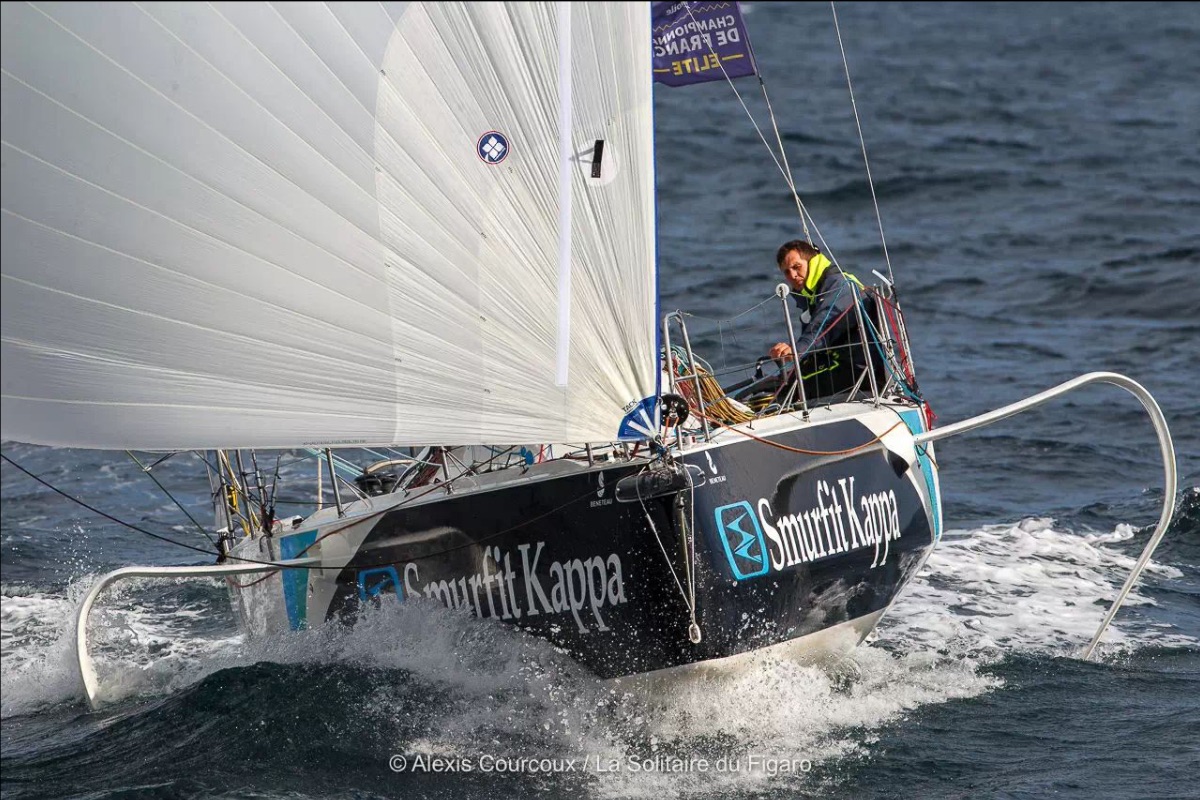 12 Sep

Positive, Patient Dolan Starts Final Stage of La Solitaire du Figaro

Posted at 12:04h

in Uncategorized

Irish solo sailor Tom Dolan was placing his faith in a slightly different, more westerly strategy as he left Morlaix Bay in north Brittany this afternoon at the start of a mammoth 685 miles final stage of La Solitaire du Figaro. The skipper of Smurfit Kappa -Kingspan, who lies 19th overall, had left the dock saying he expected to stick with the main group as much as possible on the 270 miles leg up to the Fastnet Rock.

"I have to be nice and patient and work hard on the climb north I would say. I am going very, very low risk on the way up, stay with the group as much as possible. " Dolan said.

After three nights of decent sleep, extended today as the start was delayed until 1600hrs this afternoon because of light winds, Dolan was in a positive frame of mind, looking forwards to seeing the Irish rock lighthouse close to where he started his sailing career as an instructor at Glenans in Baltimore,
"I feel a lot better than when I came in here a few days ago. I have had some good rest and am ready for this. I often do quite well going out to the Fastnet, certainly it feels like going home even if it is only hearing the weather forecasts in a nice Irish accent and knowing the French guys won't be understanding it! But I spent a number of happy years teaching at Glenans in Baltimore near the light. I don't think there is any extra local knowledge I might have, it will be so light, and most of these guys have been out there a few times. But I feel good, light downwind I don't seem to be too bad at. But I want to just stay with my 'petits copains'  (friends) as much as I can and then see on the way back."
Reviewing the complex weather picture Dolan concluded, "There will be a lot of downwind sailing and a lot of light wind sailing. Getting up to the Fastnet is not going to be that complicated and there might be a bit of a bend in the wind around Cornwall which you have to play right. There is not too much to be gained from splitting from the pack and taking big risks and a lot to be lost. If you are a little bit behind at the Fastnet that could turn into a big kicking, a big loss. There is a weird frontal system at the Fastnet which the first boast can get through with a nice big lead."

The fourth and final stage of the race should finish in Saint Nazaire on the Loire-Atlantic coast late on Thursday.