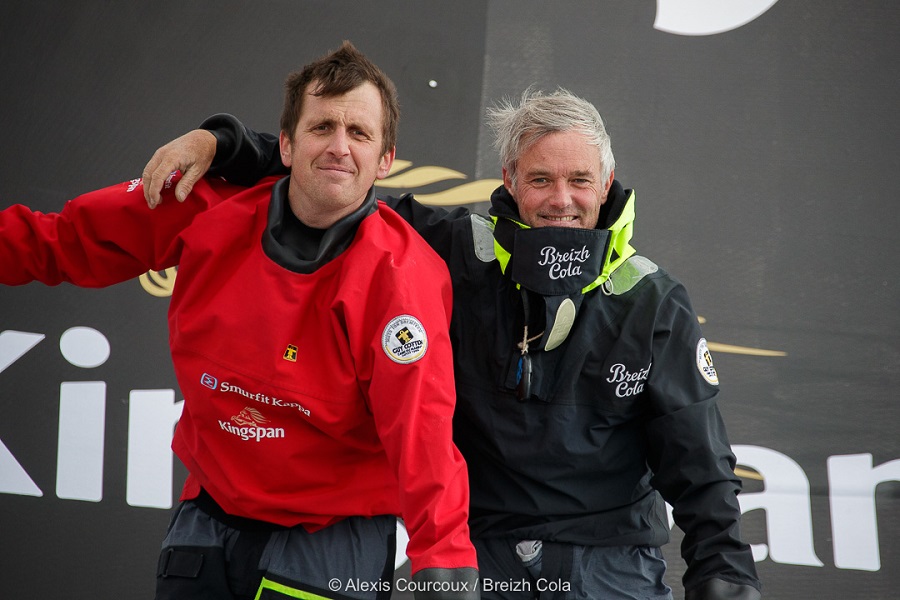 25 May

Ready, willing and able…(2.0)

Posted at 11:09h

in Uncategorized

Tom Dolan Ready For The Transat en Double Concarneau-Saint Barthélemy

Following a postponed start, moved to this Wednesday evening at 1900hrs local time from last Sunday because of stormy conditions on the Bay of Biscay, Irish skipper Tom Dolan and his ace French co-skipper Glldas Mahé were in a buoyant mood as they made their final preparations for the Transatlantic race from Brittany to the Caribbean.

"I can't wait to be going, I really can't. It was great to have been actually at my own home in Concarneau these last few days waiting for the weather to change, it makes a real difference, but now we are ready to go and get on with it." Says Dolan. "Let's be clear though I am not taking this race lightly. I never forget how lucky I am to be here. I am lucky to be here with this boat and to be racing with someone like Gildas so you can be sure I will be making the absolute most of it."

With the passage of the past days the weather picture on the Bay of Biscay has changed considerably since Sunday's feisty outlook. The conditions will still be brisk for the first few hours on Biscay but there are now fewer strategic options when it comes to the passage of a new low pressure moving west to east across the path of the 18 boat fleet at Cape Finisterre.

Dolan summarises, "The first key stage will be the Bay of Biscay, negotiating the low pressure which will complicate the course towards Cape Finisterre. Now we are going round the west of it but there will be fewer options here and so I can't see the fleet spreading out here. We arrive at Cape Finisterre with a new low pressure coming in. The negotiation of that, a shift in the wind to the left and then the big shift to the right in wind direction will be key, inside or outside the Traffic Separation Scheme – an exclusion zone at Cape Finisterre – and after that there is a dying undulating front which comes across the zone and so you have to be careful not to be caught there. At Cape Finisterre the timing of the windshifts is key and not getting eaten by the light winds at the second front. And tonight can be interesting."

Tom Dolan estimate it will take six and a half days of sailing to the waypoint at the Canary Islands for an overall passage of 17-18 days duration.