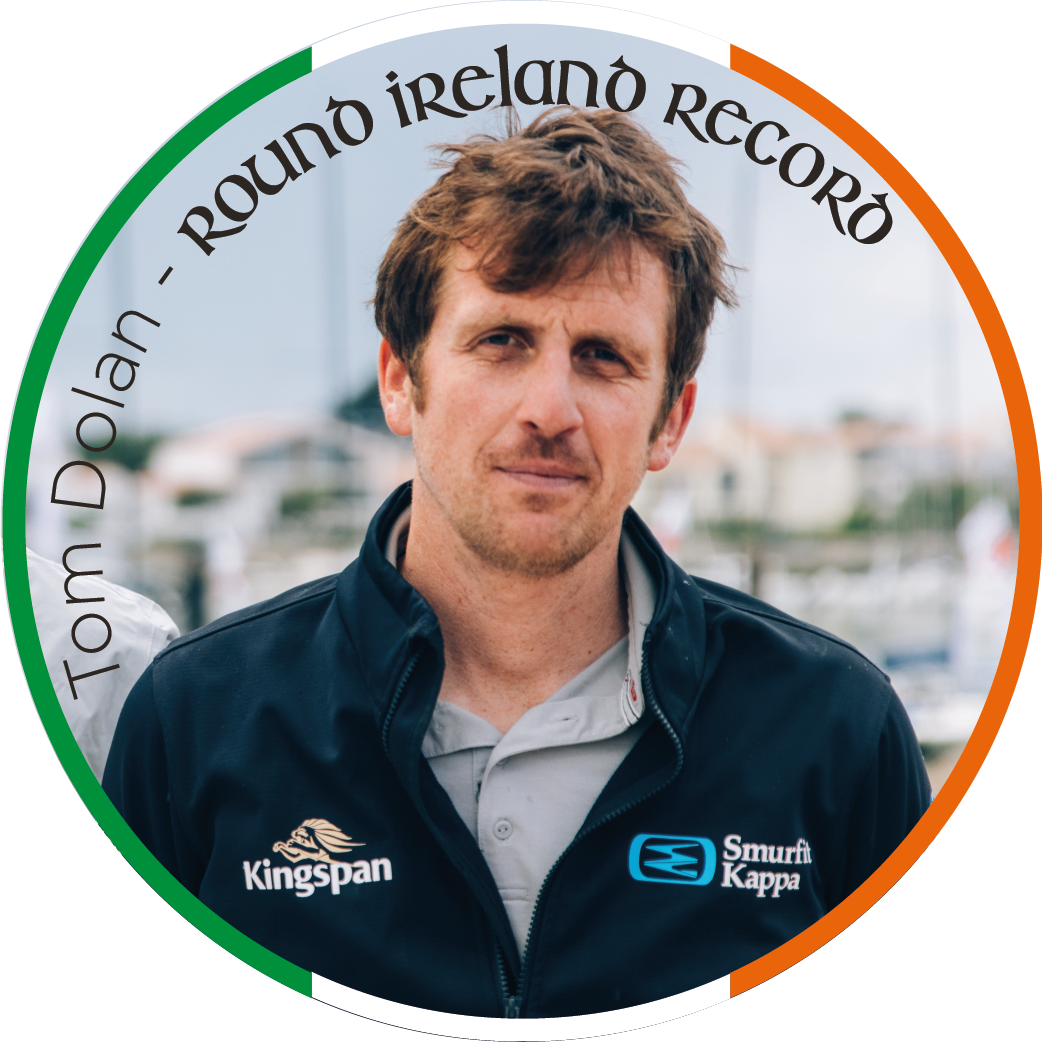 24 Apr

Round Ireland record: start of stand-by for Tom Dolan

Posted at 10:37h

in Uncategorized

While his boat Smurfit Kappa-Kingspan has now been berthed at Greystones, south of Dublin, since Wednesday, Irish solo skipper Tom Dolan will start his 'stand by' period when he is reunited with the Figaro Beneteau 3 this weekend.

Dolan is prepared and ready to go at a moment's notice, just as soon as the best weather window opens to allow him to challenge for a new record time for the 698 nautical miles passage round Ireland. Officially stand by starts Monday April 24th.

Over the next five weeks, the skipper of Smurfit Kappa – Kingspan will carefully monitor the weather situation, looking for the best opportunity to set a new mark and break the reference time established in 2005 by the Belgian Michel Kleinjans aboard a Class40: 4 days, 1 hour and 53 minutes and 29 seconds.

Ironically, as luck would have it last week's conditions would have been perfect. The ideal scenario Dolan says would be " An anticyclone over Scandinavia which would then generate an easterly flow with shifts between the South-East, East and South-East, which would allow me to circumnavigate Ireland on single tacks taking advantage of a more favorable sea on the west side of the island, which is generally quite bumpy otherwise", comments Tom Dolan.

But that is the perfect scenario. The prevailing winds are from the west-southwest and the course can be sailed in either direction.

"Round Ireland is a fairly complex course, with strong currents and many windy areas", recalls Dolan  who looks at each new weather file carefully in collaboration with his French coach Tanguy Leglatin, of the Lorient Pôle Grande Large, Dolan asserts, "If the window is good, we estimate that it is possible to get round in three and a half days".

It is a"faux solo" attempt

Stand by codes are in force, Black means that no start is possible in less than 96 hours. Red means a start could happen between 72 and 96 hours. Orange between 47 and 72 hours. Yellow, between 24 and 48 hours. Green implies a start within 24 hours.

"The boat is less than seven miles from the start line of the record which is between Dun Laoghaire and the Kish Bank lighthouse, and everything is already ready to  go", says Dolan who likens the challenge to one long stage of La Solitaire du Figaro.

"For this challenge I will carry two gennakers. On the Figaro Bénéteau circuit, the class rule makes  a limit in terms of the number of sails, which is not the case here," explains Tom, who has also had to double the food rations on board. During the record attempt he will actually be accompanied by an on-board reporter. This mediaman, Frenchman Romain Marie, is not allowed to contribute in any way at all to the performance of the boat but will be present to produce photo and video content, but most importantly it allows Dolan to comply with Irish maritime regulations which expressly forbid solo sailing around Ireland imposed after the last record.

"I can't wait and I really want to share this epic with the Irish people", concludes Tom Dolan, whose stand-by period will end, whatever happens, at the end of May before he is due to resume racing in France on the Figaro circuit.