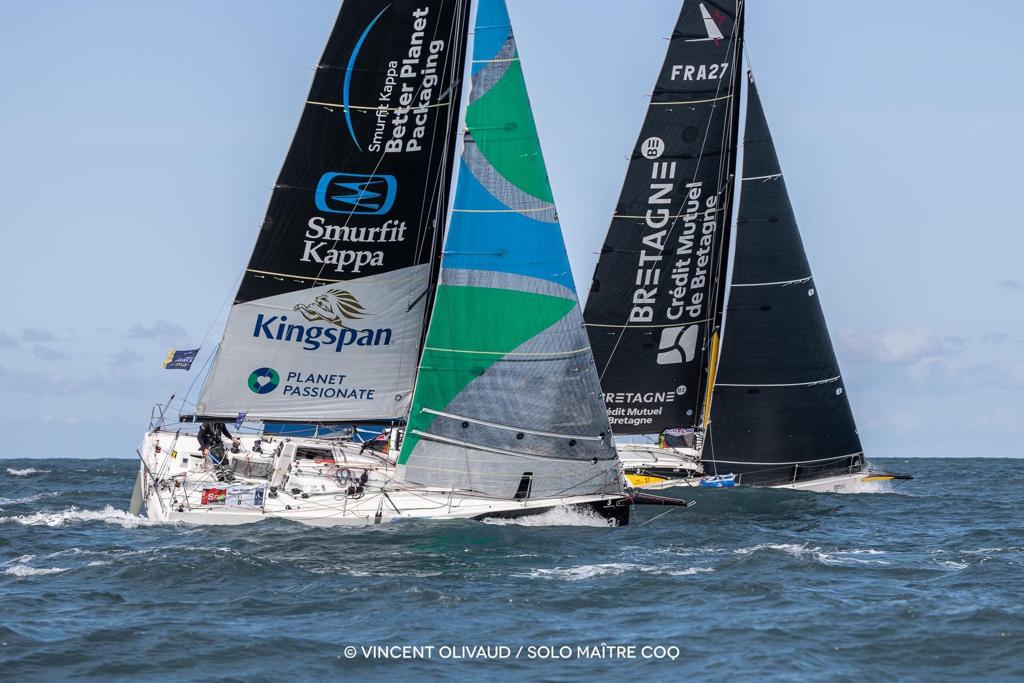 24 Apr

Tom Dolan 19th in La Solo Maître Coq, first event of the 2022 season

Posted at 19:48h

in Uncategorized

A hard earned 12th place in the final coastal race (Sunday) was small consolation for Irish solo racer Tom Dolan. Added to his 13th from Saturday's light wind windward-leeward circuit Dolan, skipper of Smurfit Kappa-Kingspan finishes the first major race of his 2022 season, the Solo Maître Coq in 19th place.

The solid short course results buoyed Dolan's mood slightly after last week's massively disappointing 330 miles long opening offshore race. He tore his spinnaker beyond repair midway down a long downwind leg and had to race on under small spinnaker. Desperately short of power he haemorrhaged places before picking up a few positions in light winds on the approach back to Les Sables d'Olonne. He was subsequently also penalised 10pts under the Figaro Beneteau 3 for having to swap to a replacement spinnaker for the remaining two races.

Dolan did finish with his best race today, largely holding his own around the 34 nautical miles coastal course off Les Sables d'Olonne. With good upwind speed he was 10th at the last windward turning mark but lost a couple of boats on the final run due to a problem with his spinnaker halyard.

"All in all I am fairly happy with the way I sailed. I seem to be very fast upwind which is good and the key for me is that my boat on boat stuff – which was my weak point – was OK, and these were shorter courses, like today's which have been my Achilles heel." Said Dolan today on the Vendée Globe pontoon in Port Olona, Les Sables d'Olonne.
"Having to sail 60 miles with no big kite on the offshore was painful, and terminal as far as a good result here is concerned. I was just sailing along and it just exploded in two. Looking back I think now that we were doing outside gybes, that is to say where the sheets run across the sail and I think that had weakened the sailcloth. But really the whole fleet passed me. It was hard but I just kept at it."

Dolan was sanguine about the consequent rules penalty which is designed to stop sailors with big budgets develop multiple different spinnakers for different wind strengths and angles. He takes a 10% places penalty so drops to 19th overall in the 33 boat fleet.

"Them's the rules but I felt I like I was penalised enough by losing so many places. But you have to take it and move on." Dolan said. "But today was good it was a perfect day to work through the ranges and do loads of  manoeuvres and the changes of sails.

While the wind was so light and unsettled on Saturday that just one of the two scheduled windward leeward races could be completed, today's coastal was raced in a solid 15-18kts of breeze. The race was won by Briton Alan Roberts who Tom Dolan pairs up with for early May's new Banque Populaire Grand Ouest Trophy for the Route des Iles du Ponant.