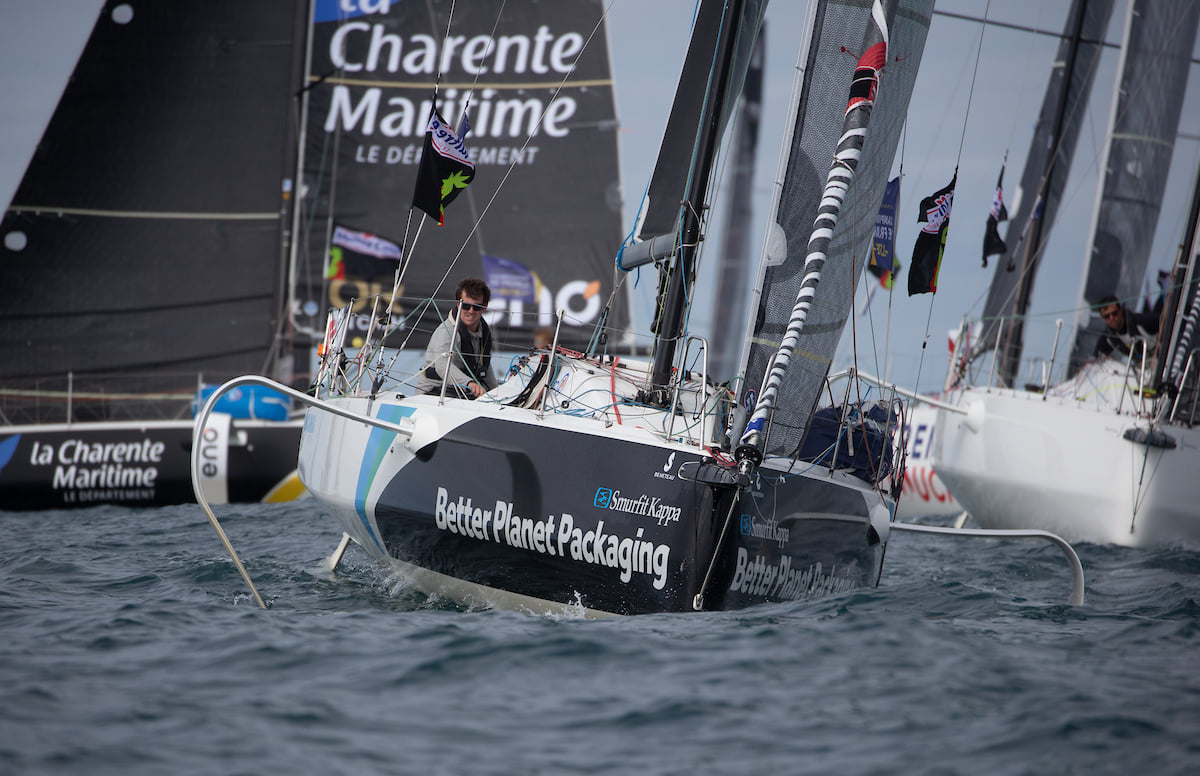 22 Mar

Tom Dolan and Smurfit Kappa in the Starting Blocks for the 2021 Season on Smurfit Kappa

Posted at 08:47h

in Uncategorized

It is with a mix of hard earned confidence and early season nerves that Irish solo sailor Tom Dolan starts his 2021 racing season on Monday in Les Sables d'Olonne. France on the annual Solo Maître CoQ race series.
Since finishing sixth overall on Smurfit Kappa on the French Elite Offshore Championship in 2020, Dolan has worked hard and smart through the back end of last season and the early spring to try and ensure he has taken all the necessary steps to improve further on last year's successes.

After the race season closed he worked late into the Autumn speed testing and two boat tuning with French ace Gildas Mahé and a small group from Technique Voile sails. Together they effectively deconstructed many of the ideas that were prevailing in the Figaro Beneteau 3 class and revalidated them for themselves, notably looking at flatter sail profiles so developing equal or more power but with less drag.

More recently Dolan has sailed long hours on the water working with his Lorient Grand Large training group especially on perfecting super smooth and effective boat-on-boat work, manoeuvres, starts and mark roundings – the short inshore courses have often been his weakness.

At the same time he has been doing what a lot of what he calls 'geekery', in essence work on the computer – collecting and crunching data from all kinds of past Figaro Beneteau 3 racing and training – to further refine the 'polars' for his Smurfit Kappa, that is the computer generated target speeds and angles for optimum performance.

"I am definitely ready to go now. I have never felt so ready at the start of a season and I feel like I have got the balance of working hard and resting just right." Dolan smiled on arrival in Les Sables d'Olonne where the Vendée Globe started in November and finished between late January and March 5th. He added,
"I did a lot of training at the back end of last season and that was good because not only was it valuable you know that is banked for this season and I start this season knowing that we did that and have complete confidence in our set up but have now been able to work on the weaknesses, starts and short, intense inshore races, so that I really feel like I have made a lot of progress since the end of last season, and have not had to put the boat in the water too early. So I feel fresh, super motivated, confident in what we have done and learned, but nervous!"

The Solo Maître CoQ, the first event of the five that form the French Elite Offshore Racing Championship. starts with short, inshore races Monday and Tuesday, a lay day Wednesday before a 340 nautical miles offshore race from Thursday to Saturday.

"The goal this week is to dust off the cobwebs and validate what we have been doing. The main pinnacles are the Transat Concarneau Saint Barths in May and La Solitaire du Figaro Auugust-September, so, although I want a good result here – as much because this has been a bit of a 'black cat event (ed note, in France the black cat is seen as unlucky) – it is not a dealbreaker," Dolan asserts,
"I feel like I have had a good balance through the winter and spring and am really ready to go racing now. I have done the work I wanted to do and in training I have been going well so I am quite confident, but, hey let's wait and see!"

Solo Maître CoQ, Programme
Monday March 22, 9h00 Skippers briefing
11h00 Start of the 1st race
Tuesday 23 March 9h00 Skippers briefing
11h00 Start of the 2nd race
Wednesday March 24 Day OFF
Thursday March 25 9h00 Skippers briefing
13h00 Start of the offshore race
Saturday March 27 Finish of the offshore race
Sunday March 28 Prize giving at 11:30 a.m.