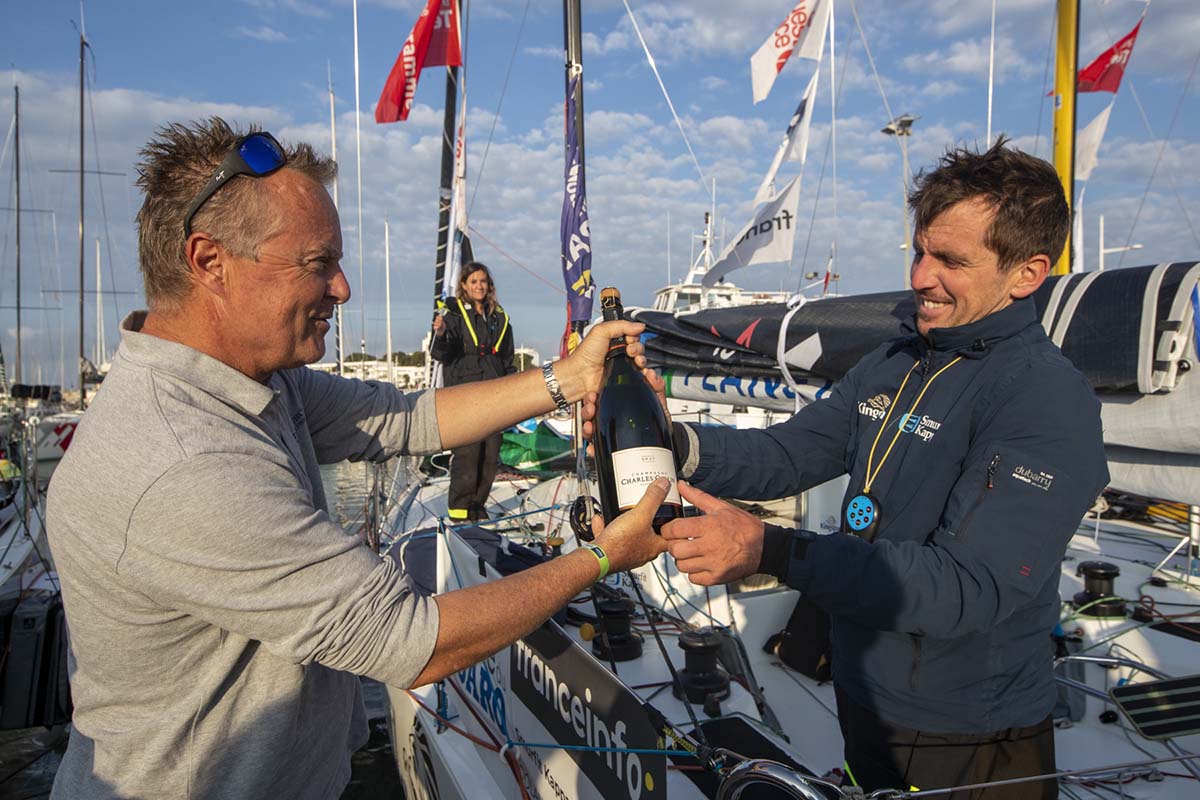 01 Sep

Tom Dolan Fifth On Stage 2 Of La Solitaire du Figaro

Posted at 14:10h

in Uncategorized

Irish solo sailor Tom Dolan improved on his 12th on Stage 1 when he crossed the finish line into Royan, France this morning in fifth place on the second stage of La Solitaire du Figaro. The skipper of Smurfit Kappa-Kingspan should move into the top five of the annual French solo race with just the third and final stage to sail, starting Sunday.

After making a spectacular climb back through the fleet, rising from 19th to eighth in a remarkable display of high speed, big winds downwind sailing on Tuesday, Dolan led the fleet yesterday after making a bold move inshore after Belle Ile of the Vendée coast. At one stage he and three other French skippers, were 20 miles to the east of the main peloton. Finding a little extra breeze whilst their rivals were all but becalmed, Dolan led until the early hours of this morning when French rookie escaped at the front of the main group to cross first this morning.

Dolan wins the Vivi Trophy prize for the leg recalled, "Basically it wasn't planned for me to take that option I just wanted to be upwind of the fleet. I had seen on the files that there was more wind to the north, well I had the impression. During the night, the fleet broke up and I lost everyone a bit. I ended up with 2 or 3 boats, I told myself that I was going to stay on this plan and stay with the North-East wind. Overall the leg was a tough one. In strong winds, I spent 14 hours sitting at the helm, it was a bit hard. But I had anticipated well, I had slept well on the upwind leg. When it came, I had my pockets full of protein bars and bottled water and off we went! It was mental, under small spinnaker, incredible. That was the most intense part, it was awesome! I was a little on edge, I hadn't had a long day at the helm like that since the Mini I think. But it was so cool. Otherwise, it was good. The boat goes so fast that it is super stable. Once planning it goes by itself. There was water everywhere, I took some videos. It was crazy! Luckily things calmed down a bit when you arrived near Eddystone, because there are still a lot of rocks, you arrive at 20 knots, it's pretty hot…. But it calmed down for the maneuver!"

He continued: "I said before the start that this stage would be extremely tough and that turned out to be true. I finished the race (so tired I was) having major hallucinations at the helm. Clearly, I ended up burned out. But during the long leg to reach Jersey, I managed to rest well. I only slept, ate, slept, ate to be ready for the rest and I did well because afterwards I spent 14 hours non-stop at the helm under a small spinnaker." 

Dolan and the other 31 solo racers now have two and a half days to recover before the final stage starts Sunday at midday, a 700 miles race across Biscay to La Coruna and back to finish in Saint Nazaire.