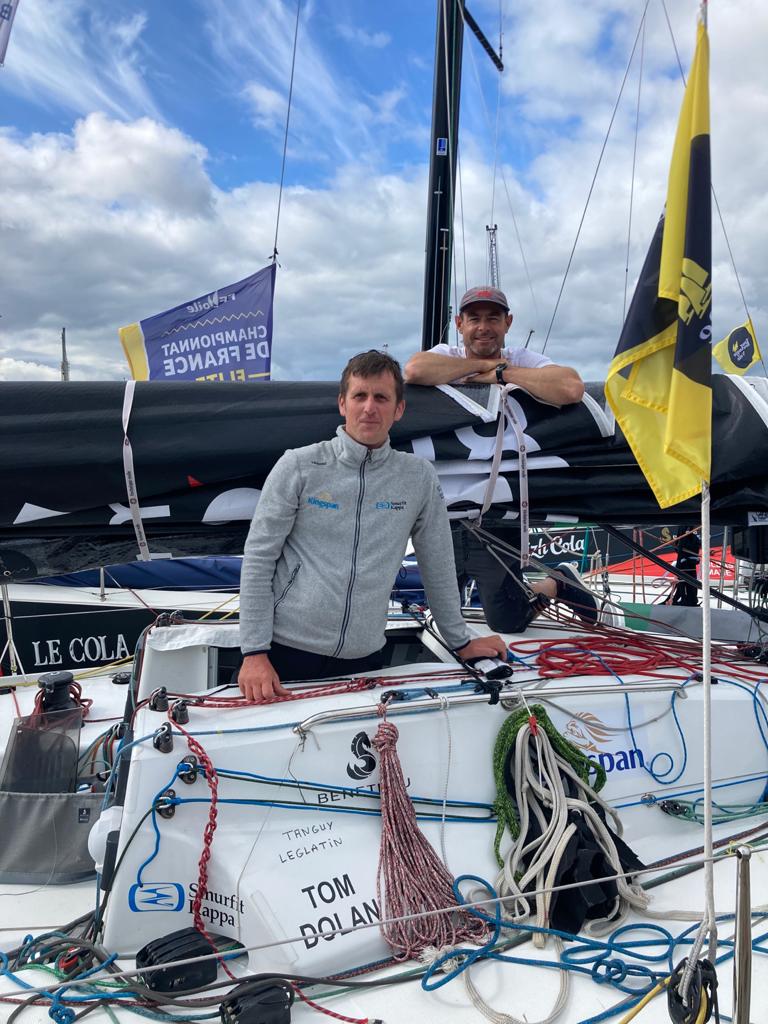 05 Jul

Tom Dolan Will Sail With Top Coach Tanguy Leglatin On Tour de Bretagne Starting Friday

Posted at 09:27h

in Uncategorized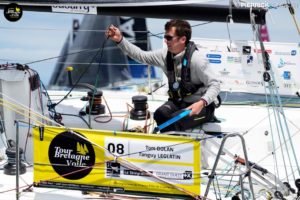 Top Irish offshore racer Tom Dolan will sail the upcoming Tour de Bretagne with leading French coach Tanguy Leglatin seeking to land a solid result for  Smurfit Kappa and  new co sponsor Kingspan and to keep his preparation for mid -August's La Solitaire du Figaro on course.
One month on from racing across the Atlantic on La Transat en Double Concarneau -Saint Barths with Gildas Mahé, Dolan is delighted to be back sailing his own Figaro Beneteau 3 Smurfit Kappa-Kingspan and is raring to get going again, this time with one of France's top offshore coaches, Tanguy Leglatin who has coached Dolan since 2017.
Dolan enthuses, "Tanguy I have always got on well with since 2017. We have always got on. I invited him to come race with me and he said yes, that was back in December. He has done a lot, lot, lot of coaching in all the classes, the Figaro, IMOCA, Ultimes. He knows these boats so very well, mostly looking at them from off the boat with the coach's eye and developing them all the time, so I am looking forwards to racing with him."
Leglatin is the principal coach at the Pole Lorient Grand Large and brings a wealth of experience on board Smurfit Kappa-Kingspan  for the Tour de Bretagne which starts Friday 2nd with a Prologue before the 33 nautical miles race from Saint Quay-Portrieux to Saint Malo. After that there are a mix of short 22-50 miles hops either side of the longest stage, Monday's 250-275 miles race from Saint Quay to Douarnenez. The race finishes 11th July with a final 24 miles sprint out of and returning to Quiberon.
It is a very positive reflection on the esteem that Dolan is held in among his peers in Brittany that the Irish sailor was asked to race the Transat by Mahé and now Leglatin has agreed to abandon the coaching support boat to race with Tom.
"Tanguy is a good guy. He has a great outlook on sails and the sensations you should be feeling on the boat and so he is great to sail with."
Dolan smiles when he recalls their first meeting back in 2017 when he was admitted to the elite Lorient group.
"He is famously impossible to get in touch with, a real Breton in that way, he doesn't answer his phone often and doesn't respond to e-mails. In 2017 when I wanted to get in the good group with the Mini, one day I finally got him on the phone and I said 'I'd like to come and join the group' and he said 'Sure, why not?' But I never heard from again, he never answered his phone or emails. So I just rocked up at a training session and he pretty much said nothing to me but didn't tell me to get lost. I've never looked back. And so we have got on since then, he appreciates I work hard and what I am trying to do. " He adds, "Tanguy is very good on the weather and the tides and where to go, he knows these areas and the little local effects and he is good on boat on boat tactics which I am still not good at."
The added sponsorship support of Kinsgspan alongside Smurfit Kappa has allowed Dolan to upgrade his sail programme from this race forwards, "It is great to have been able to get new sails, it is all new. The gennaker has changed a lot since last year and the mainsail a little bit too" He notes enthusiastically. "The Transat was great but it was mainly downwind and so I am really confident in my speed there but the great thing really is having spent so much time on the boat everything feels easy and intuitive. I learned a lot about just making sure you are completely in phase with the wind.  The only thing I need to do is still look after my ankle a bit (Tom injured his ankle and had to pull out of his first regatta of the season in April), especially as the courses can be quite short, but in general the ankle is good and the muscle Is building again and I am running and working on it in the gym. The physio is happy. I never really had time to do that before the Transat as I was still pretty much rehabbing it before the start."
Having been in the top 3 for much of the race to Saint Barth's and finishing eighth, Dolan regards the race to the Caribbean as very useful experience, highlighting the positives. " We were disappointed with the final placing in the race but we did a good race. We sailed a good race and did not get the finish we wanted which is better than doing a bad race and jagging a good finish at the end, getting lucky. That gives me way more confidence up against the very good guys, the rock stars."
Their goal for the Tour de Bretagne is a top five. Dolan smiles…."…at least. It is a key race on the French Elite Championship and important training before La Solitaire which is the big one. And this is the first race in the colours of Kingpsan so I want to do well for them especially."
But right now all courses work up to the 'big one' La Solitaire du Figaro which will be especially brutal this year with no fewer than three stages of more than 600 nautical miles in length. " The main thing I am looking to do it is to be all ready and prepared super early so that in the weeks leading up to the start I am maximising rest and minimising stress and effort. That is really all I can do, but for example I have been doing all my homework early, looking at the tides and all the potential scenarios so that I know them backwards, and even like now, doing the delivery up to Saint Malo (from Concarneau) is valuable because it covers a good section of the course so we can stop and look carefully at some of the rocks and tidal flows at different times."
Follow the Tour de Bretagne  https://tourdebretagnealavoile.com/